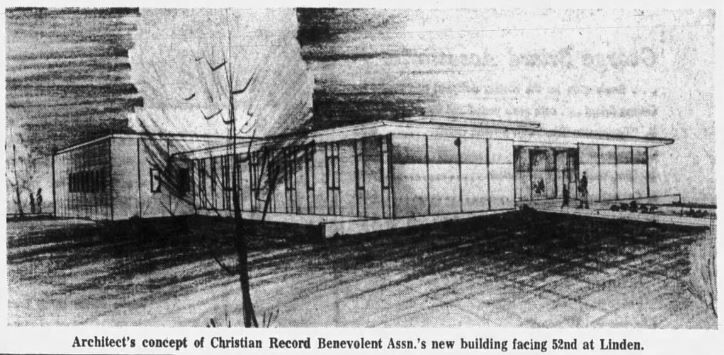 This is a portion of an article published on December 7, 1961 and written by Bess Jenkins:
A new $450,000 building center on a 4-block southeast Lincoln site is being announced by the Christian Record Benevolent Assn.
This is the 1899-established organization that has provided a growing number of services to the blind nationally without charge. Its work is supported largely by contributions and endowments.
The $450,000 expenditure will cover the construction of a $376,000 building, a duplex on the 4-block site for blind workers, and acquisition of the property.
C.G. Cross, association editor-manager, said the new building will face So. 52nd St., and will provide work, library services and headquarters activities.
Designed by Steve Cook and Associates, the structure will be one-story with a basement in which a fall-out shelter will be constructed. The exterior will be light gray brick and tile.
Approval of the building program was given by the Christian Record's board of directors in Washington, D.C. W. B. Ochs of Washington heads the board.