2021/2022 SCHOLARSHIP RECIPIENTS
Christian Record Services, Inc. publicly announces the six collegiate recipients of the 2021 Anne Lowe Scholarship on Monday, July 26, 2021. "Our scholarship committee was impressed with each of our applicants this year and we are thrilled to award scholarships to six outstanding individuals," said Diane Thurber, president of the 121-year-old organization. "Through the ongoing generosity of donors, we are able to support the education of each of the selected recipients of the Anne Lowe Scholarship."
The following Anne Lowe Scholarship recipients are listed in alphabetical order by last name: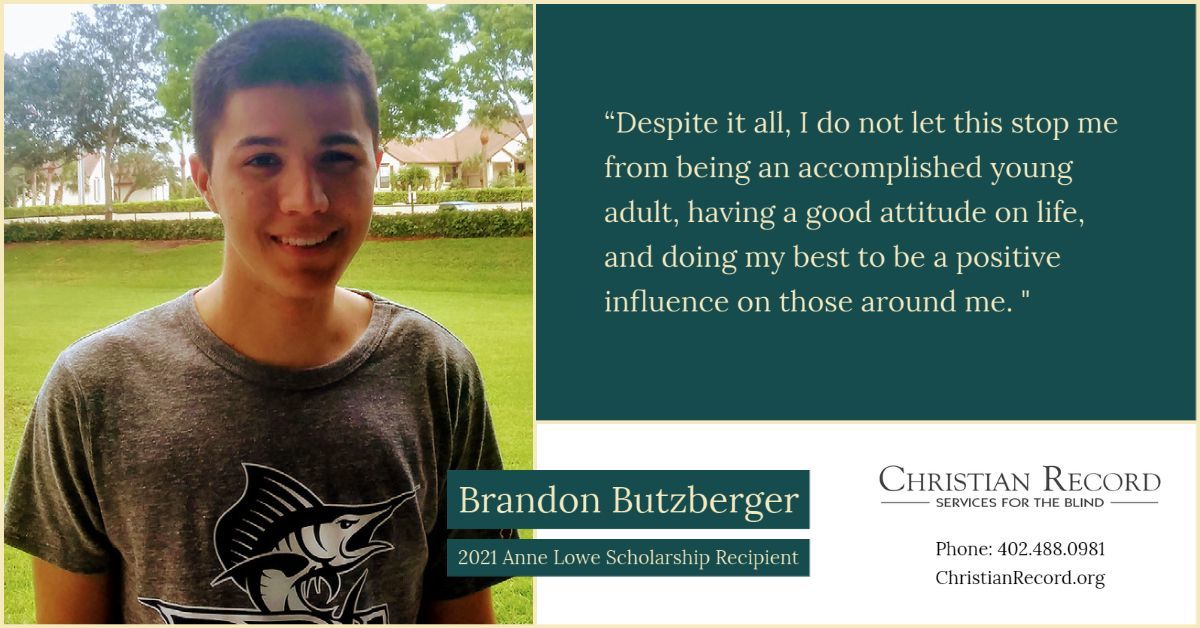 Brandon Butzberger currently attends Palm Beach Atlantic University, with a goal of achieving a doctoral degree in Clinical Psychology.  He has achieved a 3.92 GPA in his college studies and, in November 2020, he was accepted into the Frank M. Supper Honors Program. The program is exclusive to the university's best students and entails more rigorous coursework in preparation for graduate school.  Outside of the classroom, Brandon also displays leadership skills: For the last seven years, he has been a youth group leader at his church in the Awana Ministry, and has been a member of the National Honor Society for three years.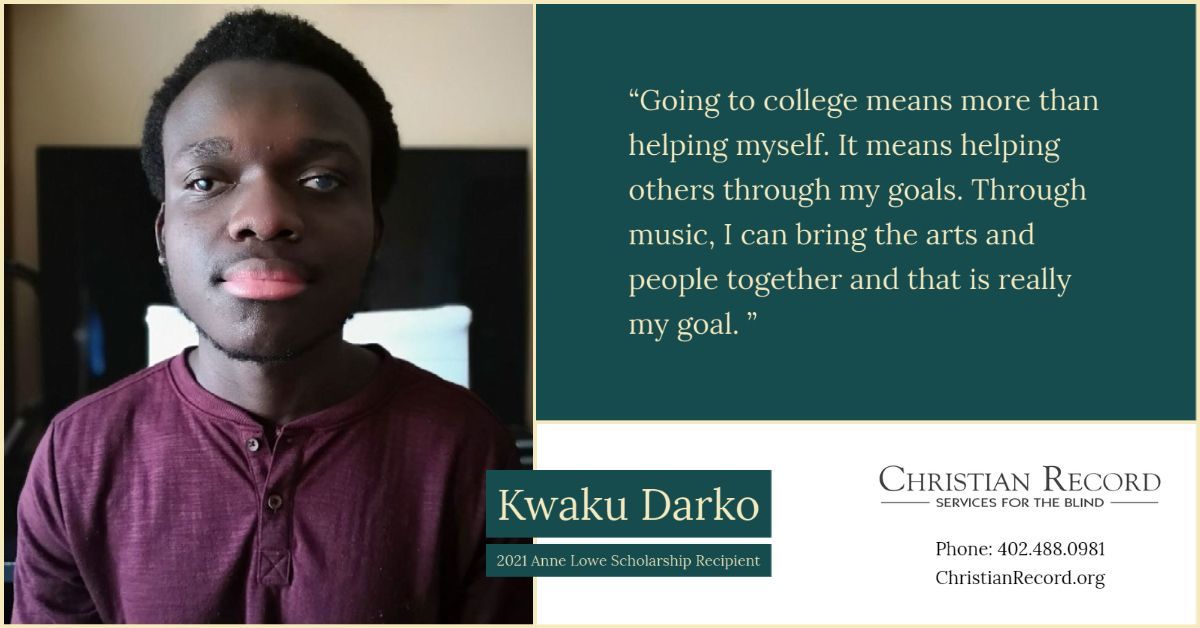 Kwaku Darko will attend the Berklee College of Music this fall as he follows his passion of making and sharing music.  After being captivated by the sounds of the church choir as a young boy, Kwaku found his identity as a musician while teaching himself the drums, piano, guitar, and bass.  He shares his talents by giving lessons to the other church members, and just last year he began writing, recording, and producing his own music, with hopes that one day he can write a musical.  Kwaku says that since accessibility has always been an issue for him, he plans to study coding to help enhance the user experience and advocate for better accessibility.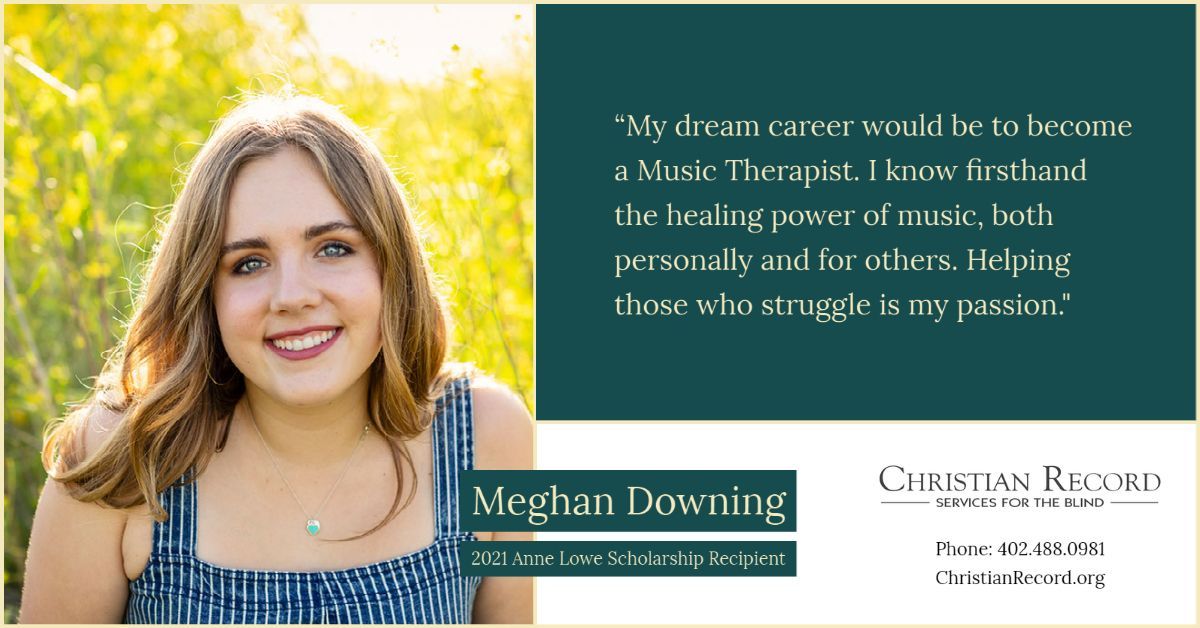 Meghan Downing will begin her second year at the Berklee College of Music this fall as a Music Therapy major, and pursuing a career in which music is used within a therapeutic relationship to address physical, emotional, cognitive, and social needs of individuals. Her passion for music is evident; Meghan started violin lessons at age four and transitioned her focus to guitar and vocals six years ago. In the past year, she was invited to perform at the National Braille Press' annual gala and the annual holiday fundraising/educational event for Eyeshine, an organization serving students who are blind by implementing outdoor sports and activities, through which her performances were shared both nationally and internationally.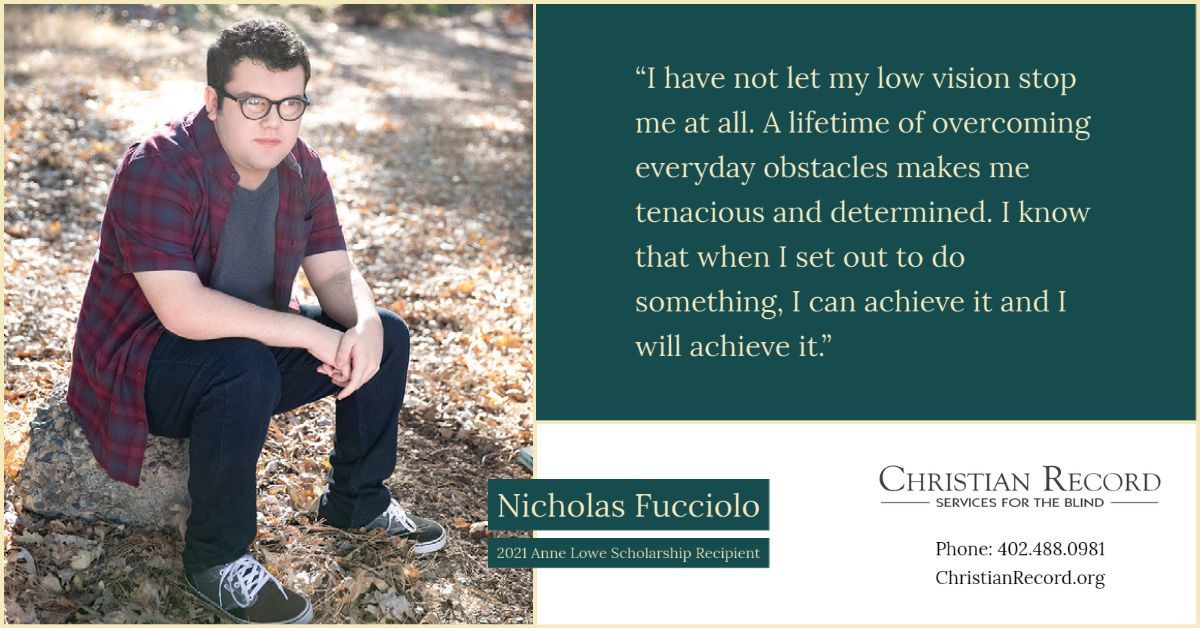 Nicholas Fucciolo plans to attend Chico State University this fall and pursue a degree that will someday lead him to a career as a film editor and producer.  Technology has always been a large part of his life, due to his low vision, and the artistic fields allowed him to explore his creativity and passions with new focus.  In high school, Nicholas helped produce his school's weekly television show, and his team won a prize for a news story at the Northern California Student Media Showcase.  His long-term goal is to develop a strong network and skills in film production because as Steven Spielberg said, "You shouldn't dream your film, you should make it."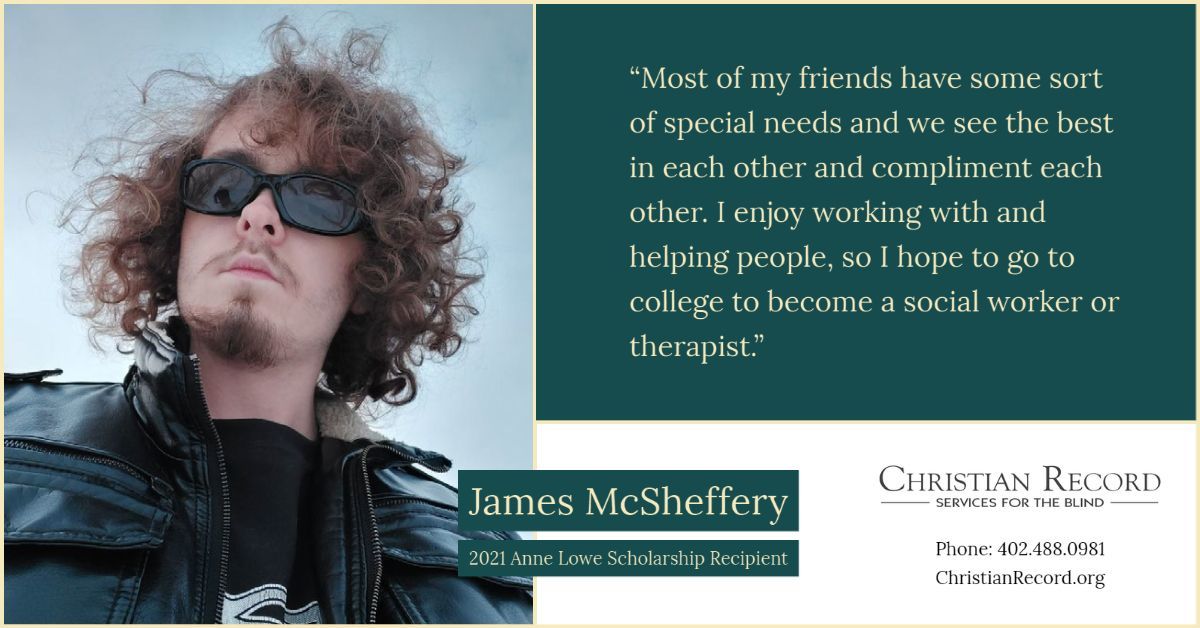 James McSheffery will attend college this fall, after graduating from Victor J. Andrew High School this past spring.  While in high school, he was an active student, taking part in the Freshman play, participating with the Environmental Club (dubbed the "Green Team"), and also playing on the school's Special Olympic Basketball and Track Team.  He also completed over 100 hours of community service at The Teen Bridge Center, working at their thrift store.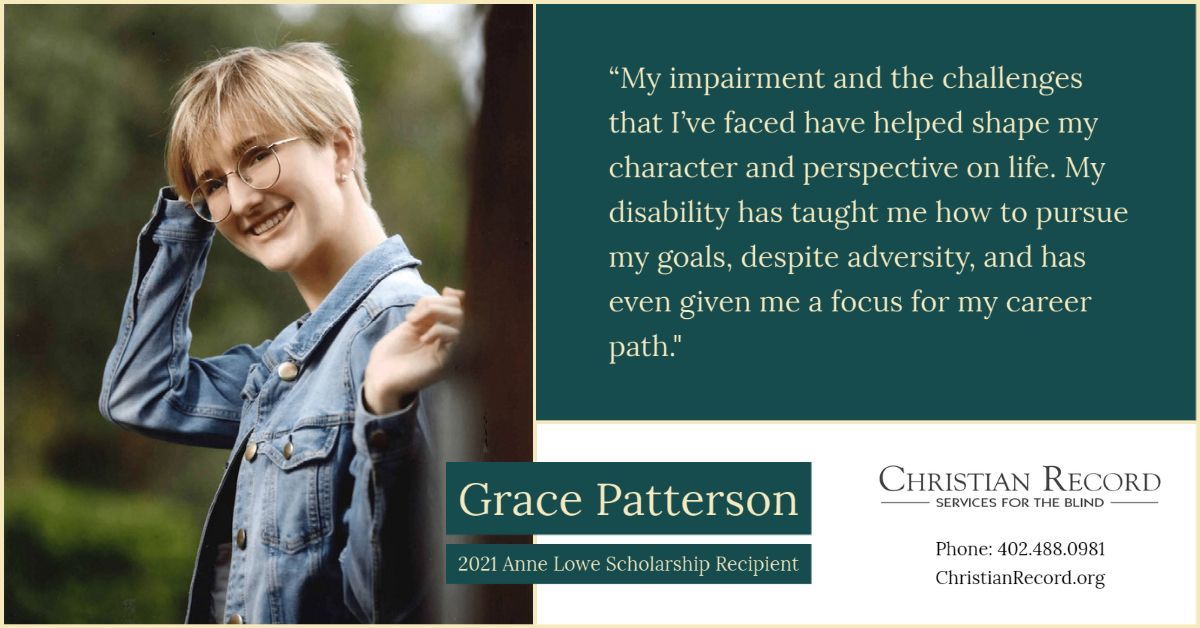 Grace Patterson has been accepted into Florida Atlantic University's Wilkes Honor College, where she will finish her bachelor's degree in English literature.  Once she graduates, she plans to come back to her home county to attend Stetson University's College of Law, where she will focus on pro bono service and earning her Juris Doctorate.  She has supported her community by volunteering at the local courthouse with the Teen Court, a diversion program for teens that have committed misdemeanors.  She plans to dedicate her life to public interest law and specialize in disability rights.
---
The Anne Lowe Scholarship is awarded to college students and is based on academic achievement, need, and goals for the future, which is supported through an essay, reference letters, a projected budget, and verification of blindness. Tom Lowe established the scholarship in 1989 in memory of his wife, Anne, who loved education and the mission of Christian Record Services. Donors may contribute to this scholarship specifically or arrange to set up an endowment of their own by talking with the Director of Mission Advancement at Christian Record Services.