2022/2023 SCHOLARSHIP RECIPIENTS
Christian Record Services, Inc. publicly announces the five collegiate recipients of the 2022 Anne Lowe Scholarship on Wednesday, July 6, 2022. "Our scholarship committee was impressed with each of our applicants this year and we are thrilled to award scholarships to five outstanding individuals," said Diane Thurber, president of the 123-year-old organization. "Through the ongoing generosity of donors, we are able to support the education of each of the selected recipients of the Anne Lowe Scholarship."
The following Anne Lowe Scholarship recipients are listed in alphabetical order by last name: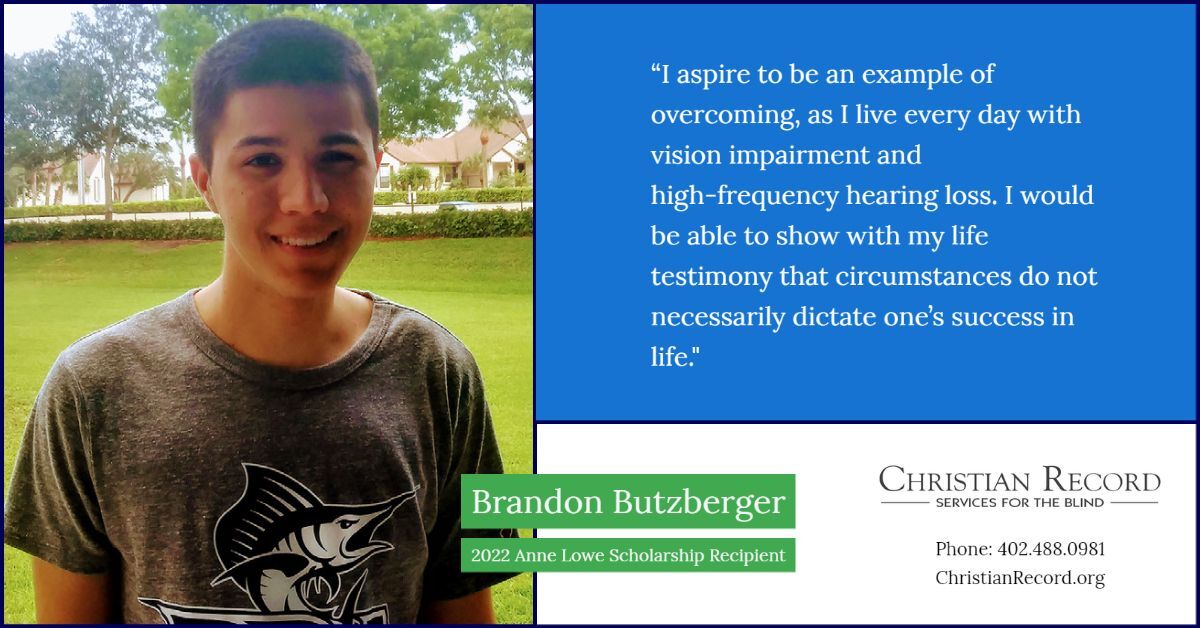 Brandon Butzberger currently attends Palm Beach Atlantic University, with the goal of achieving a doctoral degree in Clinical Psychology.  He has achieved a 3.95 GPA in his college studies and, in November 2020, he was accepted into the Frank M. Supper Honors Program. The program is exclusive to the university's best students and entails more rigorous coursework in preparation for graduate school.  Outside of the classroom, Brandon also displays leadership skills: For the last seven years, he has been a youth group leader at his church in the Awana Ministry, and has been a member of the National Honor Society.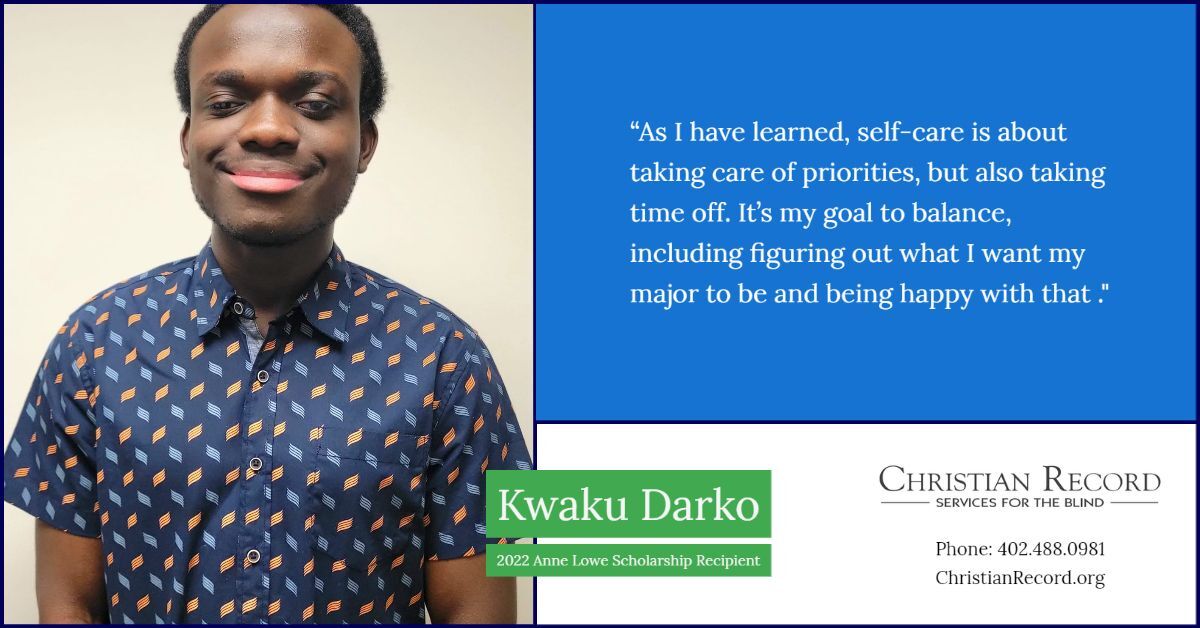 Kwaku Darko will attend the Berklee College of Music this fall as he follows his passion of making and sharing music.  After being captivated by the sounds of the church choir as a young boy, Kwaku found his identity as a musician while teaching himself the drums, piano, guitar, and bass.  He shares his talents by giving lessons to the other church members, and just last year he began writing, recording, and producing his own music, with hopes that one day he can write a musical.  He is leaning towards declaring Contemporary Writing and Production as a major or concentration under the Professional Music degree.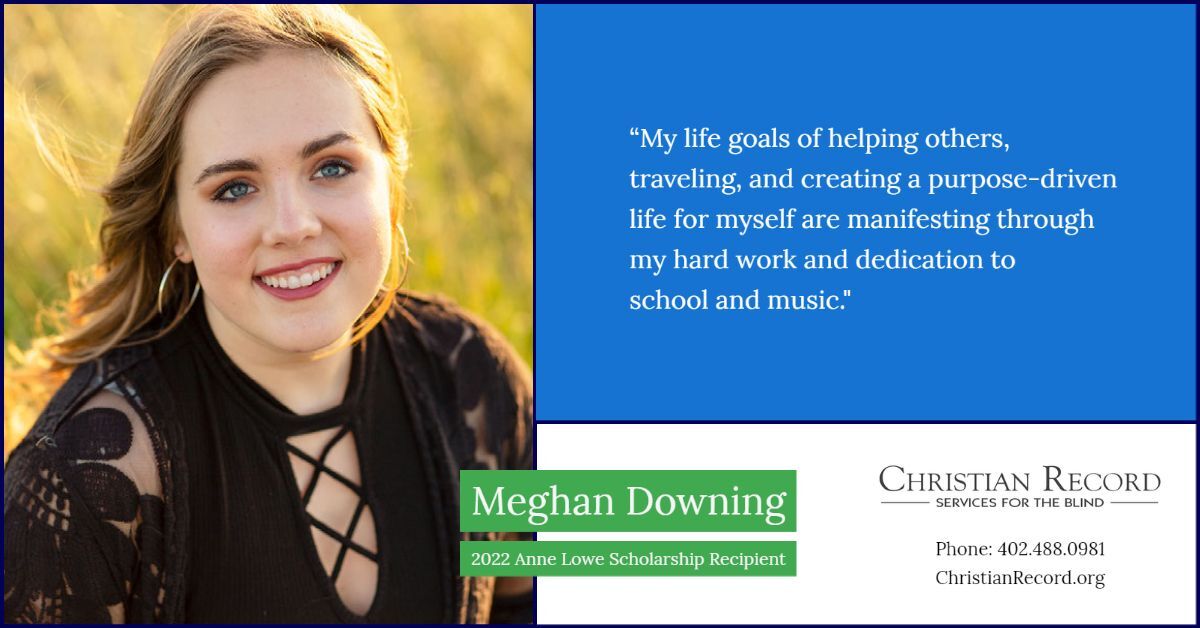 Meghan Downing will begin her third year at the Berklee College of Music this fall as a Music Therapy major, and pursuing a career in which music is used within a therapeutic relationship to address physical, emotional, cognitive, and social needs of individuals.  She has achieved Dean's List status in multiple years and has recently served as the Vice President of the California Council of the Blind's Student group.  Her life goals of helping others, traveling, and creating a purpose-driven life for herself are manifesting through her hard work and dedication to school and music.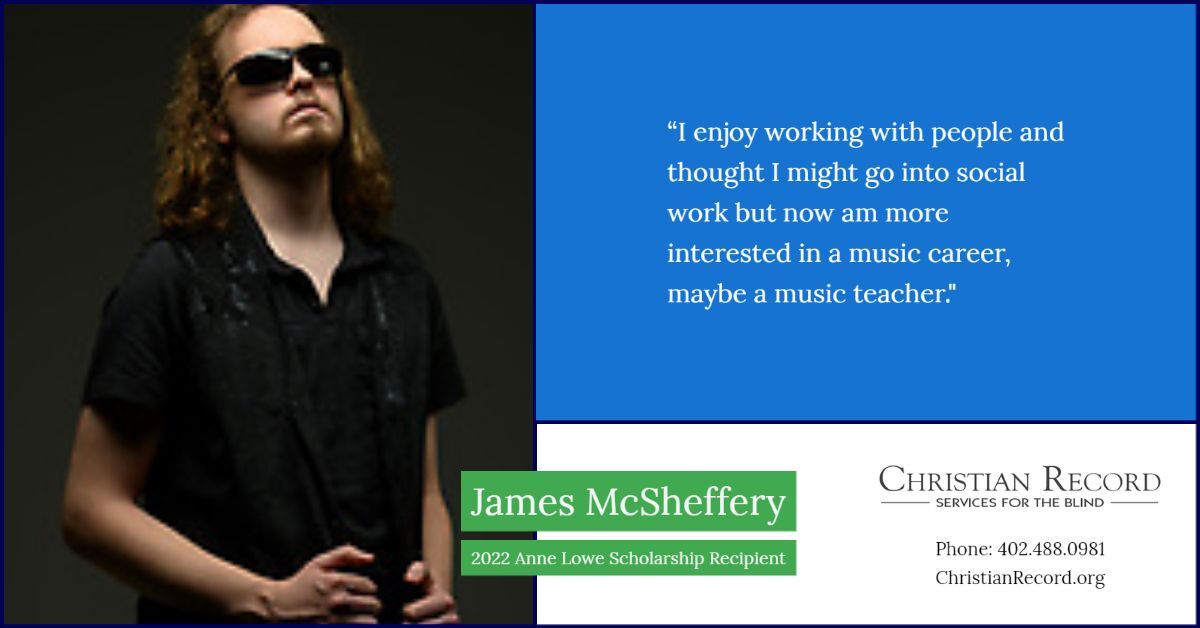 James McSheffery attended Moraine Valley Community College this past year and has enjoyed this new adventure.  While in high school, he was an active student, taking part in the Freshman play, participating with the Environmental Club (dubbed the "Green Team"), and also playing on the school's Special Olympic Basketball and Track Team.  He also completed over 100 hours of community service at The Teen Bridge Center, working at their thrift store.  He enjoys working with people and is thinking about being a music teacher.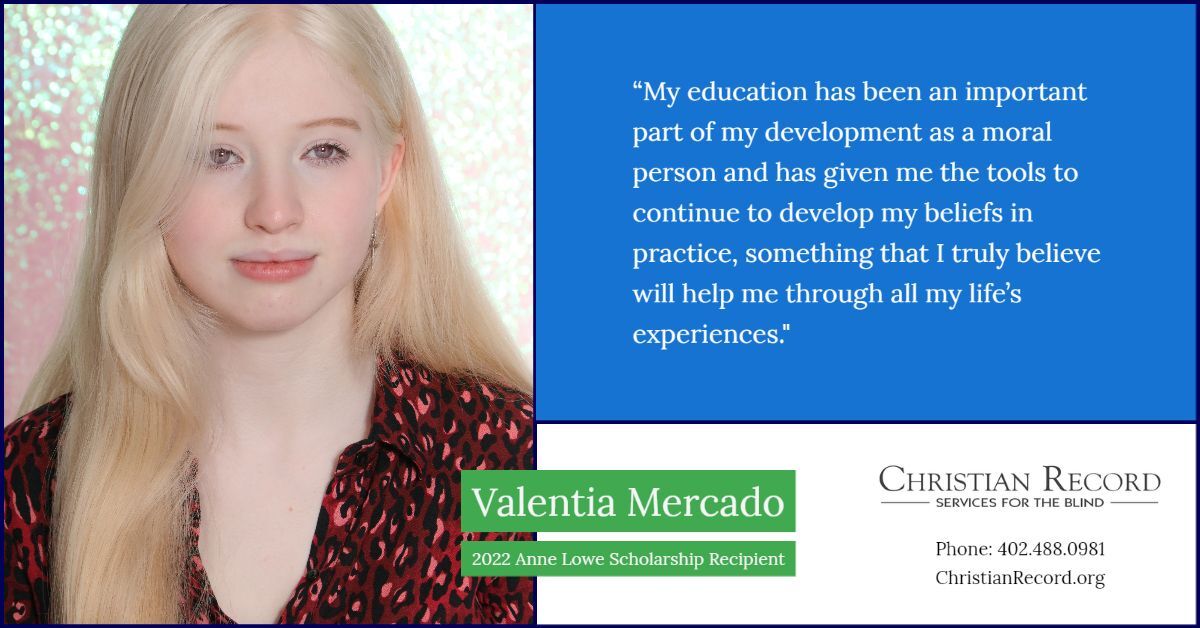 Valentia Mercado has always been an artist.  The visual and performing arts, writing, singing, and playing instruments have all been things she has loved and, over the years, developed and polished into skills to further pursue in her life.  Her art is also an extension of her interests and beliefs.  She is attracted to topics that impact the present and future, and she loves using her creative voice to help others and educate people who don't understand her conditions.  She has been accepted into NYU, Parsons School of Design, and Pratt Institute this year.  If there's something that blindness has taught her, it's that she has to work harder than everyone else to achieve her goals.
---
The Anne Lowe Scholarship is awarded to college students and is based on academic achievement, need, and goals for the future, which is supported through an essay, reference letters, a projected budget, and verification of blindness. Tom Lowe established the scholarship in 1989 in memory of his wife, Anne, who loved education and the mission of Christian Record Services. Donors may contribute to this scholarship specifically or arrange to set up an endowment of their own by talking with the Director of Mission Advancement at Christian Record Services.