2023/2024 SCHOLARSHIP RECIPIENTS
Christian Record Services, Inc. publicly announces the six collegiate recipients of the 2023 Anne Lowe Scholarship on Wednesday, July 5, 2023. "Our scholarship committee was impressed with each of our applicants this year and we are thrilled to award scholarships to six outstanding individuals," said Diane Thurber, president of the 123-year-old organization. "Through the ongoing generosity of donors, we are able to support the education of each of the selected recipients of the Anne Lowe Scholarship."
The following Anne Lowe Scholarship recipients are listed in alphabetical order by last name: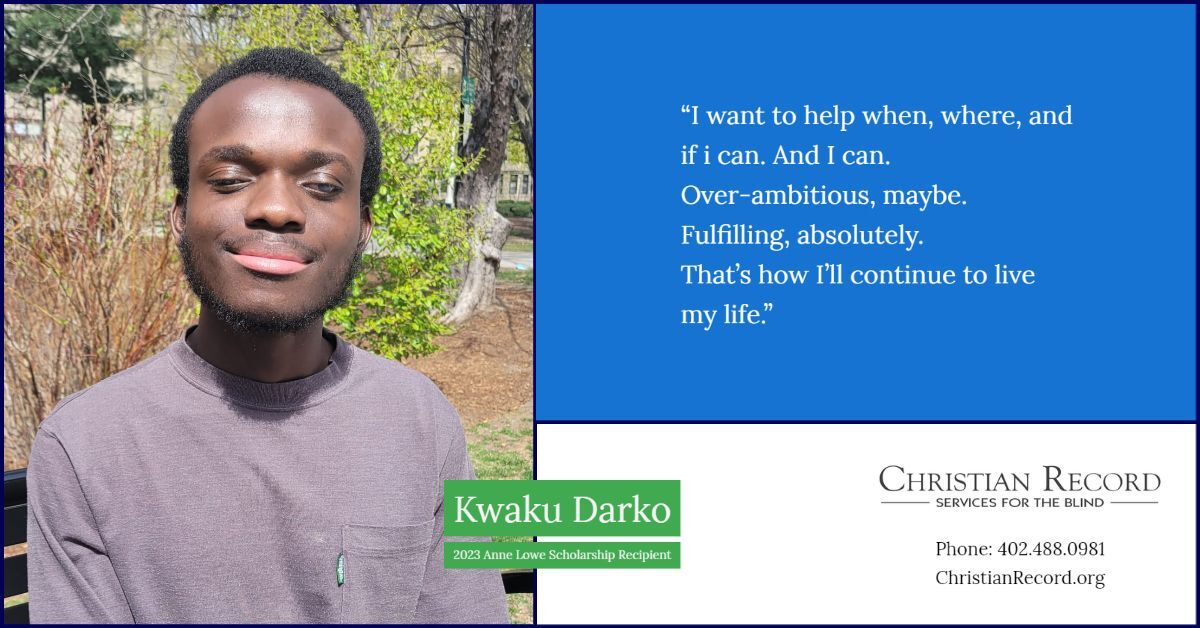 Kwaku Darko is attending the Berklee College of Music this fall as he follows his passion of making and sharing music.  After being captivated by the sounds of the church choir as a young boy, Kwaku found his identity as a musician while teaching himself the drums, piano, guitar, and bass.  He shares his talents by giving lessons to the other church members, and just last year he began writing, recording, and producing his own music, with hopes that one day he can write a musical.  He wants to be a disability advocate, especially in his field where inaccessible music software and gear limit people with disabilities. Along this line, he is entertaining the idea of being a Certified Assistive Technology Instructional Specialist (CATIS).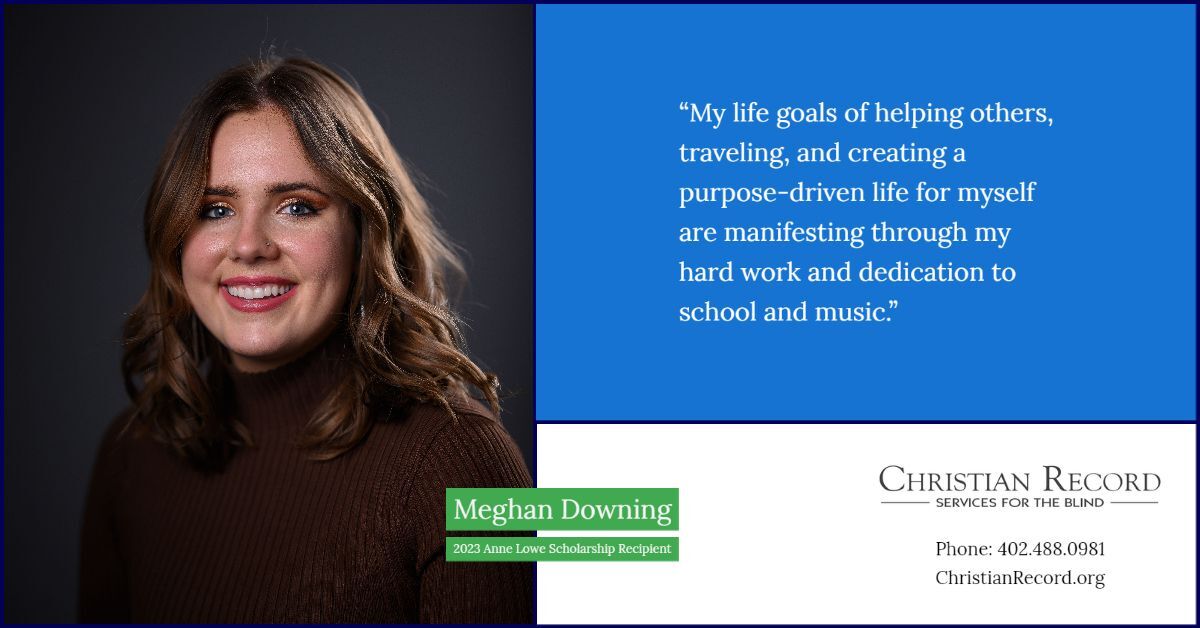 Meghan Downing will begin her fourth year at the Berklee College of Music this fall as a Music Therapy major, and pursuing a career in which music is used within a therapeutic relationship to address the physical, emotional, cognitive, and social needs of individuals.  She has achieved Dean's List status in multiple years and was recently presented the Music Therapy Impact Award by the Department Chair, "in recognition of outstanding achievement".  Her life goals of helping others, traveling, and creating a purpose-driven life for herself are manifesting through her hard work and dedication to school and music.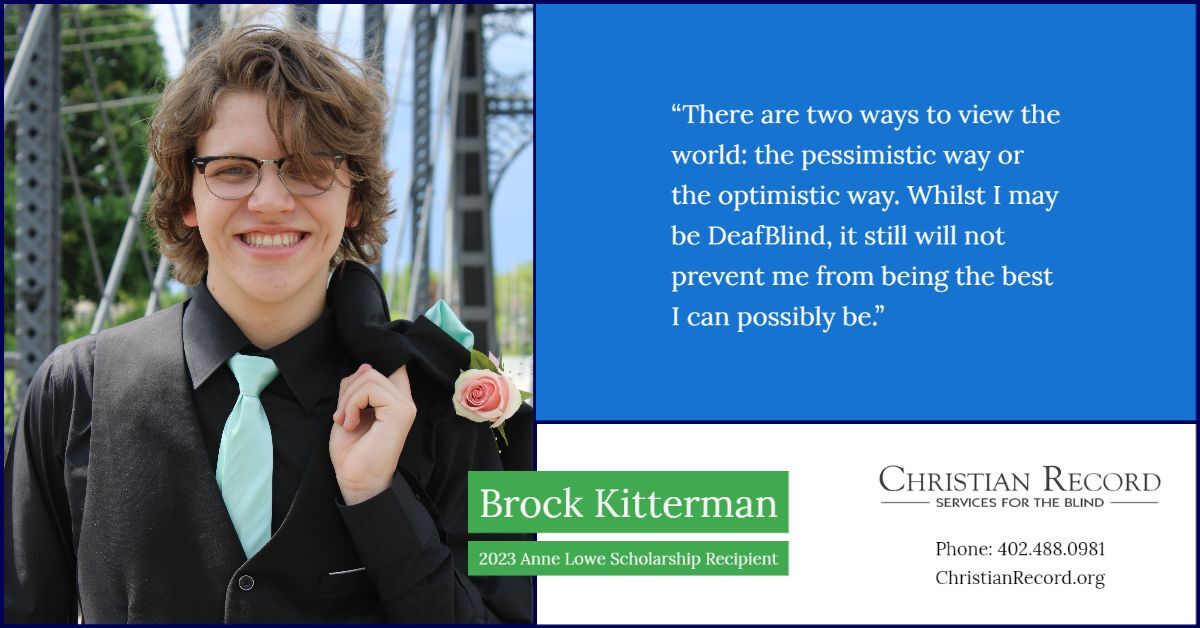 Brock Kitterman will be a freshman at the University of Alabama this upcoming fall and plans to major in Computer Science and Software Engineering, eventually earning a Master's Degree. In high school, he excelled in honors and advanced placement courses and held an impressive grade point average.  In addition, he is a valued member of the United States Blind Hockey Team and competed in track and cross country.  He would like to enter the workforce with the goal of utilizing computers and technology to make the lives of other visually impaired people easier.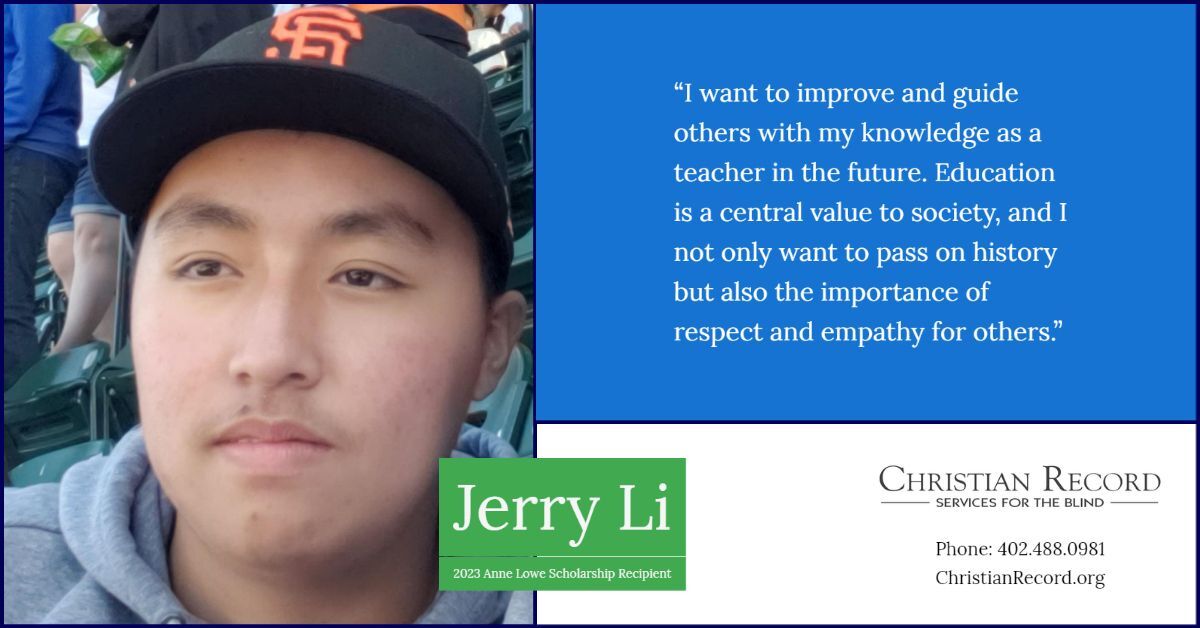 Jerry Li plans to attend UCLA this fall and will use his high school experiences as a springboard for success.  He attended Lowell High School, a competitive high school in San Francisco, and earned straight A's. Recently, he participated in the Mayor's Youth Employment and Education Program, where he organized activities for under-represented youth, supported the Mayor's Office staff with administrative tasks, and attended employment workshops. He plans to be a teacher in the future and help improve and guide others around him.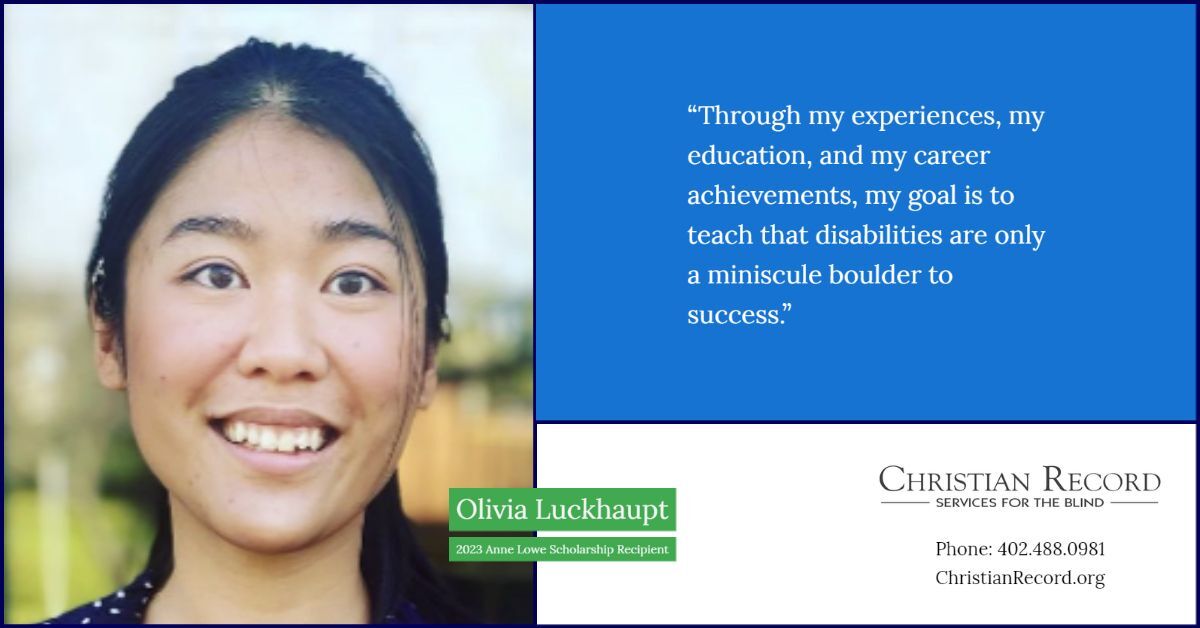 Olivia Luckhaupt is currently an undergraduate student at Cedarville University in Cedarville, Ohio, and is majoring in Special Education, to become a Teacher for the Visually Impaired (TVI).  Despite her learning disability in high school, she received high academic honors and that has continued into her undergraduate work. She plans to obtain a Master's Degree from Ohio State University's Teaching Visual Impairments licensure program. Her ultimate goal is to use her disability to serve the marginalized.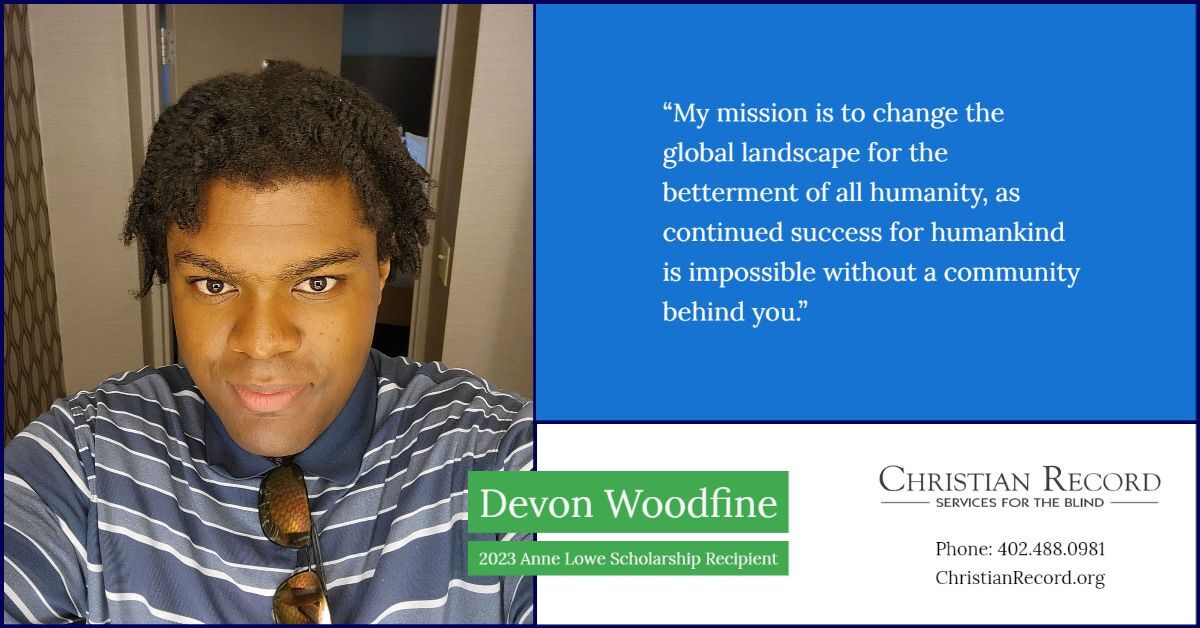 Devon Woodfine currently attends California State Polytechnic University and is pursuing a Bachelor of Science degree in Mechanical Engineering.  After completing his undergraduate work, he plans to attend the California Institute of Technology as a Ph.D. student and work on designing new assistive devices and software applications that allow people suffering from physical and mental disabilities to integrate fully into society. He want to use his time to plant the seeds for the next generation of young, talented, and underserved STEM influencers and leaders.
---
The Anne Lowe Scholarship is awarded to college students and is based on academic achievement, need, and goals for the future, which is supported through an essay, reference letters, a projected budget, and verification of blindness. Tom Lowe established the scholarship in 1989 in memory of his wife, Anne, who loved education and the mission of Christian Record Services. Donors may contribute to this scholarship specifically or arrange to set up an endowment of their own by talking with the Director of Mission Advancement at Christian Record Services.