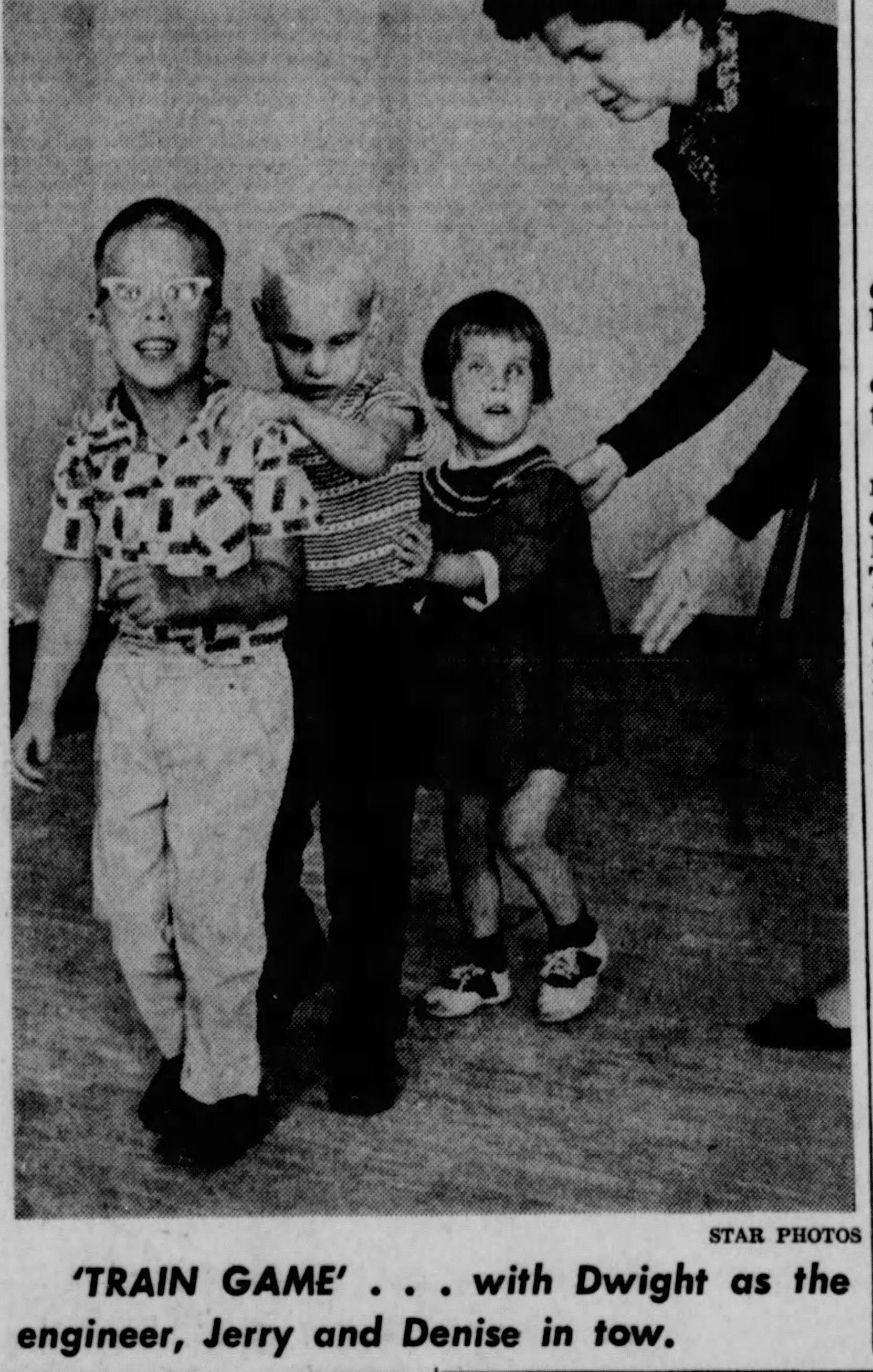 The following article was published in the Lincoln Star on October 7, 1963, and written by Nancy Ray:
"Monkey see, monkey do," goes the song on the phonograph, and five little preschool children joined in the dancing and clapping, although none of the little "monkeys" can see.
The youngsters are blind or partially sighted, and often have other handicaps - such as leg braces - to slow them down, but somehow the barriers seem to speed them up instead, increasing the pace, the shouts, the noise, the giggles, and scrambling roughhouse that every nursery school teacher knows so well.
Three mornings a week, these youngsters attend "school" in a sunny auditorium-sized room at the new Christian Record Braille Foundation building at 4444 So. 52nd.  Two teachers and one helping parent guide them toward one of the most important steps in their lives: learning to live away from the dependable security of their homes and mothers.
Within a year or two, these youngsters will be old enough to attend the School for the Blind in Nebraska City.  But they will not be stable enough to survive the wide gap between home and the outside world unless they have some training to bridge that gap.
Here at "school," the children resemble any happy play group, with perhaps a bit more emphasis on drums and xylophones than on bright colored blocks and blackboards.
Their teachers, Mrs. Thelma Roshon and Mrs. Janet Norris, are continually training them, however, in some very serious concepts - voice commands, rhythm, space relationship, manners, coordination, and most important of all, learning to get along with other children and with adults other than their own families.
Mrs. Roshon remarked that the group - which started preschool sessions September 30, 1963 - "has adjusted remarkably well."  Both teachers are experienced in preschool blind teaching work and taught under the state-supported program until it was discontinued for lack of funds a few years ago.
Now the Christian Record Foundation is subsidizing the program at a cost of $2,400 a year "just because the need is so great," as one official put it.
The children, unaware of their gradual training to meet the demands of the outside world, play happily at the same games all youngsters enjoy.
"Find Johnny," calls out Mrs. Norris, and agile Denise races in circles, arms outspread, touching, identifying and rejecting, until she successfully finds Johnny and his crutches and his mop of unruly hair.
Jerry still has a habit of rubbing at his sightless eyes, but the teachers are confident he'll stop this as he learns to join in and becomes more interested in pleasing those around him.
Minute-sized Jerry, hampered in the active games because he is learning to move about without his braces, makes up for it in talk and interest and exploration of the shadowy objects within his reach.
And Dwight, the classroom show-off, speeds recklessly around the huge room on a tricycle, anxious that everyone should notice his increasing sight, through corrective glasses.
The tiny classmates will probably be joined by others as the school term progresses and parents learn of its existence and the chance for their own sightless children to begin the long climb toward the fullest possible life."