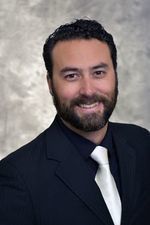 We are pleased to announce that effective January 1, 2022, Joshua Kittleson was promoted to Assistant Director for Member Services and Studio for Christian Record Services.
Kittleson has worked at the Lincoln-based ministry for the past ten years, supporting in a variety of roles—most recently as Member Services Liaison Lead. While serving as Member Services Liaison Lead, he continued to accept additional responsibilities to learn and contribute in new ways in both the Member Services and Studio departments. Additionally, Kittleson brings creative thinking and implementation to support and propel the ministry's mission to "empower people who are blind to engage their communities and embrace the Blessed Hope."
As assistant director, Kittleson will continue to support members who call daily, collaborate with the department director, Kalvin Follett, to refine and implement service level standards for high member satisfaction, help maintain the member database and online library, produce audio projects, and conduct research and assessment for Member Services and the ministry's PhoneFaith daily call-in program for people who are blind.
"Joshua Kittleson is a valued member of the ministry team whose unique strengths help the blind community we serve have confidence Christian Record Services cares about them. We look forward to the Member Services and Studio departments being strengthened as he assumes new responsibilities."—Diane Thurber, president