Christian Record Staff Mourns Loss of Former Colleague Dorothy Marston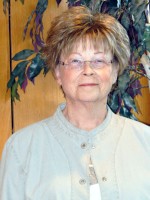 It is with profound sadness that Christian Record Services for the Blind announces the passing of Dorothy Marston, retired services representative and wife of Christian Record call center representative Terry Marston. Dorothy passed away on Wednesday, January 10, 2017, surrounded by her family, after an extended illness.
During her time at Christian Record, Dorothy visited businesses in Nebraska, Kansas, and South Dakota to raise awareness of the needs of this ministry that serves people who are blind and to solicit funds for the organization. Additionally, Dorothy worked closely with the clients in her territory, visiting and praying with them in their homes, sharing and enrolling clients for Christian Record's reading services, and inviting them to attend camps through National Camps for Blind Children.
Dorothy was known for her wry wit, continuous smile, and the fierce, compassionate love she had for Jesus, her family, friends, clients, and co-workers.
Funeral services for Dorothy will be 11:00 a.m. on Sunday, January 14, at the College View Seventh-day Adventist Church, with an inurnment planned for a later time in Minnesota.
Visitation will be 3:00-5:00 p.m. on Saturday, January 13, at Butherus, Maser & Love Funeral Home, 4040 A Street, Lincoln, Nebraska 68510.
---
Looking for older stories? Click here to go to the Newsroom Archive.