2021/2022 SCHOLARSHIP APPLICATIONS
Applications for the 2021/2022 Anne Lowe Scholarship are now closed. Stay tuned for an announcement of recipients!
2020/2021 SCHOLARSHIP RECIPIENTS
Christian Record Services for the Blind publicly announced the six collegiate recipients of the 2020 Anne Lowe Scholarship on Tuesday, July 7, 2020. "Through the generosity of donors, we are thrilled to award scholarships to six students this year," said Diane Thurber, president of the 121-year-old organization. "The scholarship committee was impressed with the broad range of interests and accomplishments among the applicants. Christian Record Services extends congratulations to the selected recipients and best wishes as they continue their education with the support of the Anne Lowe Scholarship."
The following Anne Lowe Scholarship recipients are listed in alphabetical order by last name: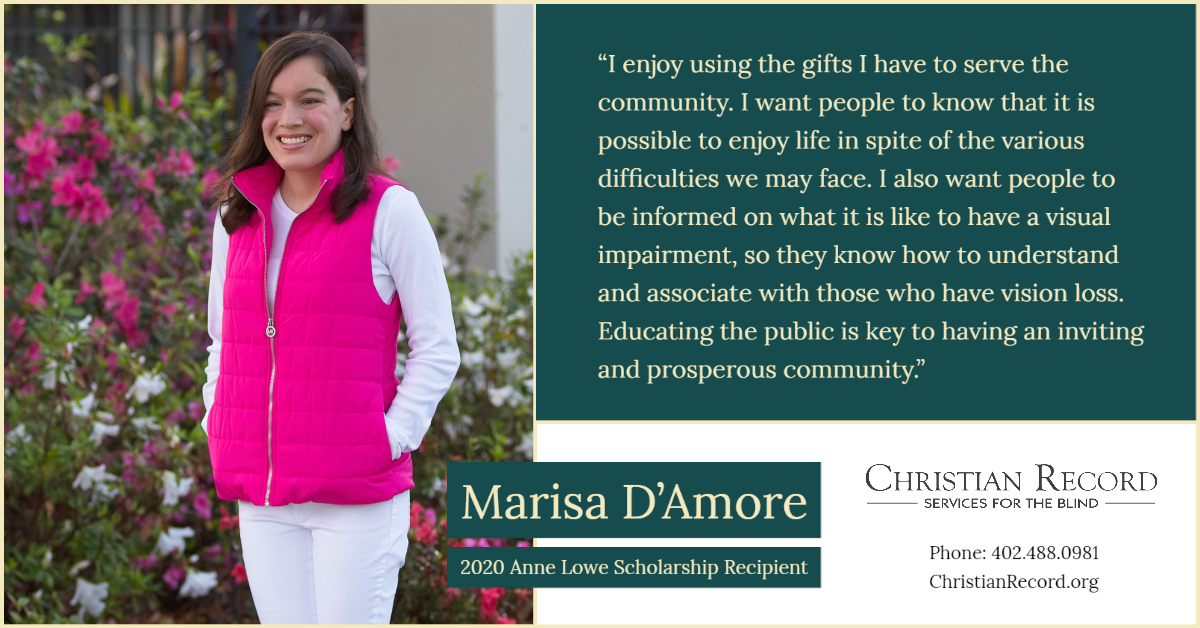 Marisa D'Amore is planning to pursue a major in communications and a minor in Bible at Southeastern University this fall. Throughout her life, she has participated in various athletics and fine art activities, including swim, gymnastics, dance, track, choir, and marching band. She is a five-time 1st place finisher in her respective divisions at the West Florida Braille Challenge, placed in the top 12 in the U.S. and Canada in her division, and went on to compete in the National Braille Challenge in 2013. During high school, Marisa maintained a 4.0 GPA, and found multiple opportunities to share her thoughts, as a speaker and published author. She is a member of the National Honor Society, serves as the Senior Class Chaplain, and was named Miss NCS 2020 as voted by the faculty at her school and based on a respected Christian testimony, high academic standards, leadership skills and a commitment to extracurricular activities.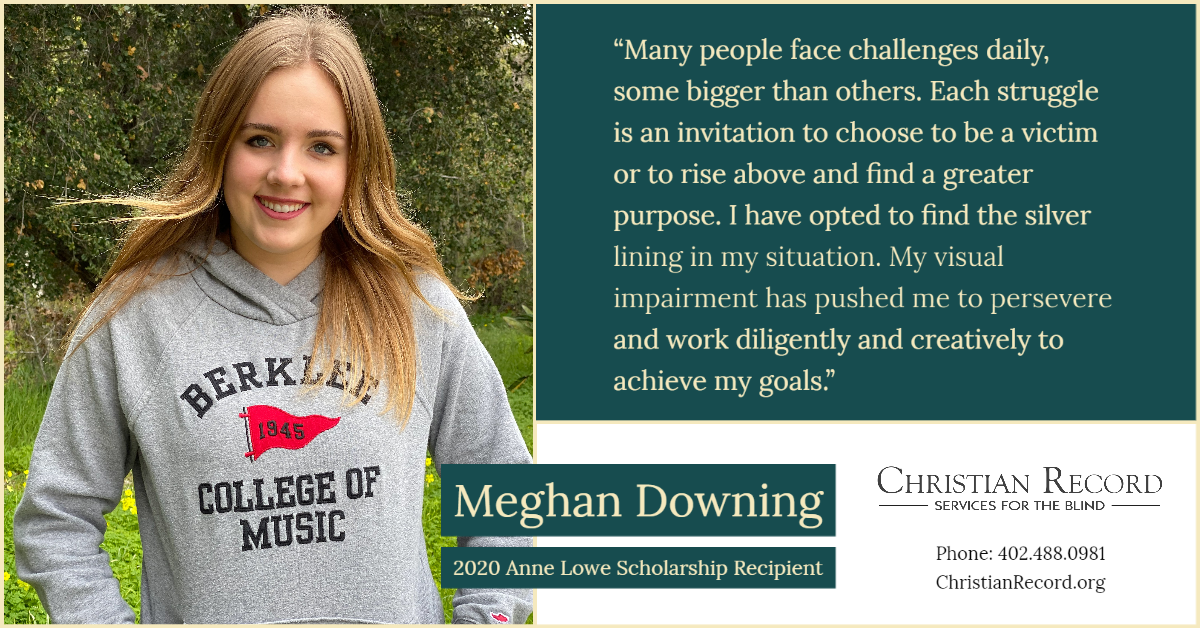 Meghan Downing is planning to attend the Berklee College of Music this fall as a Music Therapy major, and pursue a career in which music is used within a therapeutic relationship to address physical, emotional, cognitive and social needs of individuals. Her passion for music is evident; Meghan started violin lessons at age four and transitioned her focus to guitar and vocals five years ago. She is the lead singer in a local band, teaches guitar and ukulele to students of all ages and abilities, and is the President of the a capella choir at her high school. Meghan also enjoys competing on her high school's water polo team and serves her community as President of her local Youth Wellness Connection Club.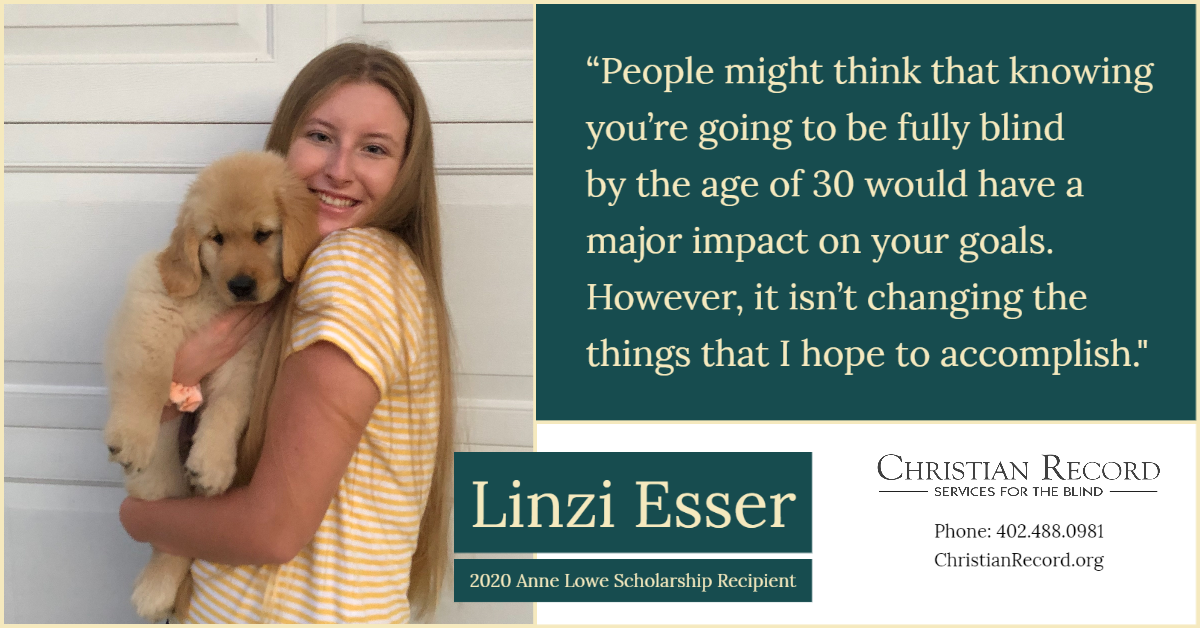 Linzi Esser plans to major in Psychology at Loyola University – Chicago. One of her biggest educational and personal goals is to become a psychiatrist, as someone who thrives learning new things, helping others, and serving her community. Linzi seeks out ways to be independent, and is excited about living by herself in a large city, especially one with such phenomenal public transportation!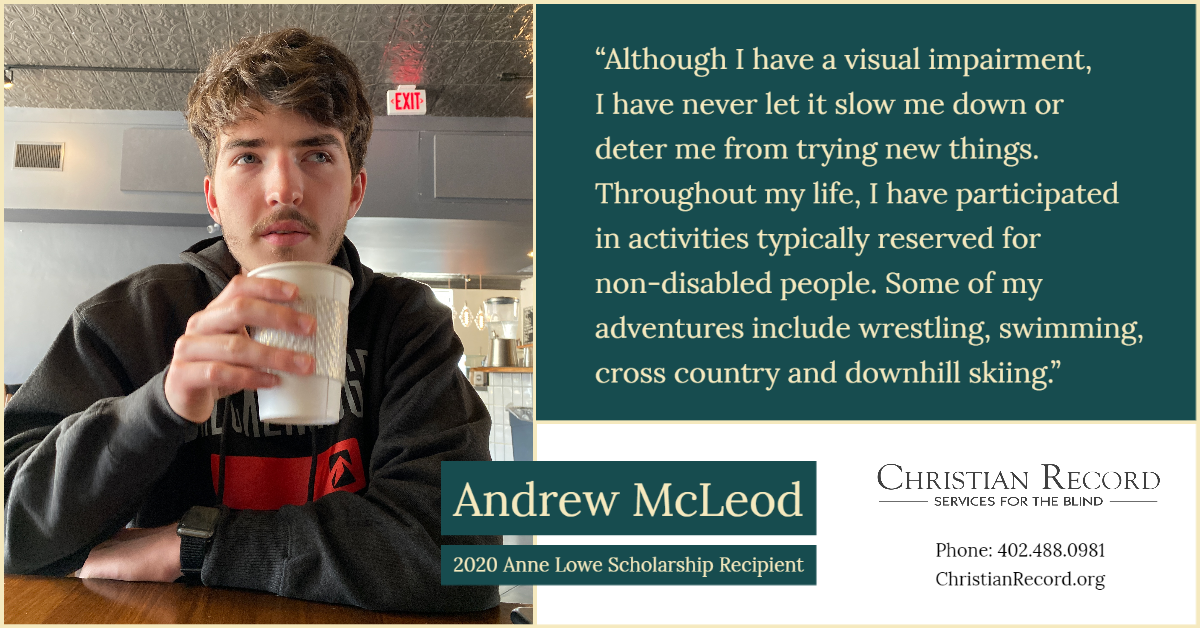 Andrew McLeod is a sophomore majoring in Computer Science at Wichita State University in Wichita, Kansas. Active in competitive sports from a young age, including wrestling and swimming, his newest passion is downhill skiing. A talented musician who performs with his church worship group, Andrew is also involved as a mentor and guide with The Beat Goes On, a music workshop for visually impaired. He has been active, as an attendee and now instructor, in a summer assistive technology program.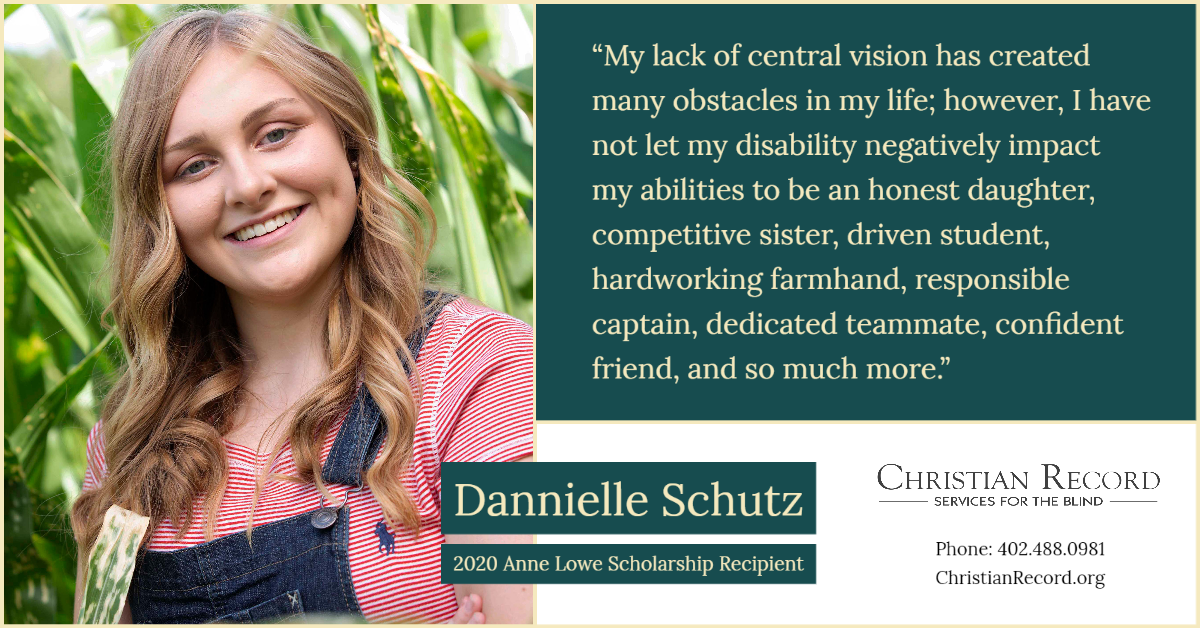 Dannielle Schutz will be attending the University of Nebraska-Lincoln in Fall 2020 to study Biological Systems Engineering. She plans to pursue a career as a medical scientist, with the goal of conducting research on genetic mutations and induced pluripotent stem cell applications to assist in the restoration of affected health. Danneille is active in her community, having won multiple awards through 4-H and FFA, and serving through SOS, NHS and Cornhusker Girls State. As a visually impaired student, she had multiple first-place finishes in the Nebraska Regional Braille Challenge and was a National Braille Challenge Finalist in 2018. Dannielle earned three Academic letters during high school, in addition to lettering in Golf and Cheer.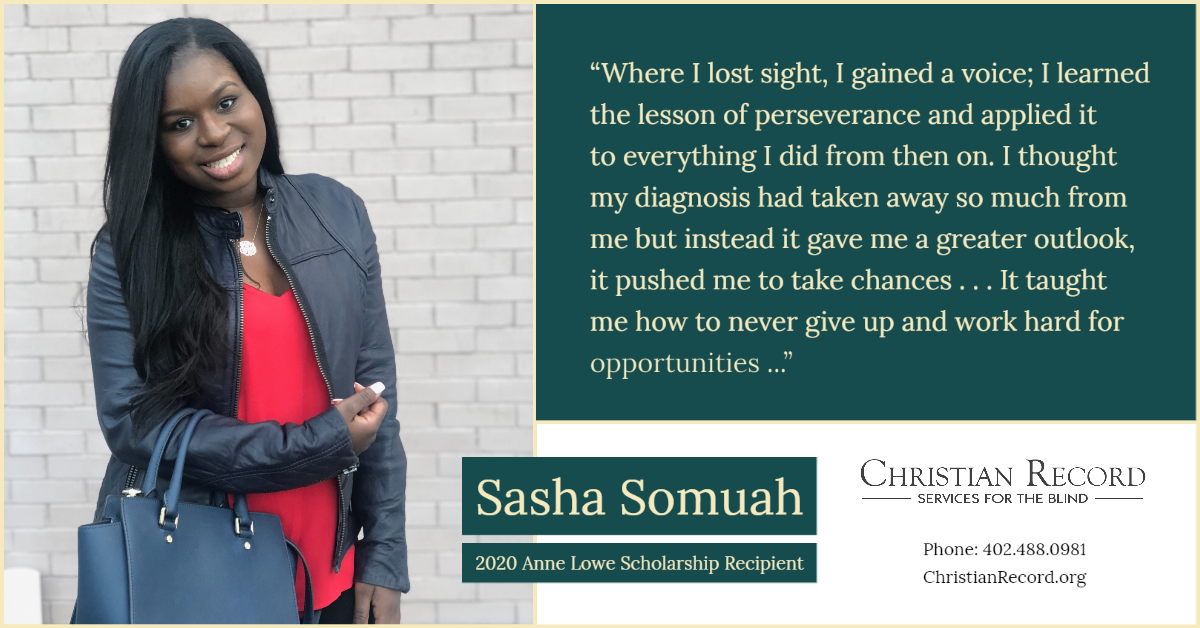 Sasha Somuah is pursuing a degree in public relations, an extension of her interests and career goals in branding, advocacy and communications. She has held internships at several esteemed organizations, including Special Olympics DC, RightPro Recruiting, Linder global Events, and Children's and Screens Research Clinic, and has been Vice President of the Pi Beta Phi DC Alpha Chapter and Social Media Director of The George Washington Women in Business Association.
---
The Anne Lowe Scholarship is awarded to college students and is based on academic achievement, citizenship which is supported through reference letters, and verification of blindness. The scholarship is distributed in two parts during the school year. Tom Lowe established the scholarship in 1989 in the memory of his wife, Anne, who loved education and the mission of Christian Record. Donors may contribute to this scholarship specifically or arrange to set up an endowment of their own by talking with the Director of Development at Christian Record.