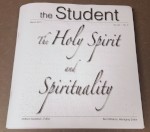 The Student is a daily Bible study guide providing in-depth lessons for personal Christian growth. This braille magazine is issued monthly.
---
For Christian Record clients, this magazine will now be available through your Liberty account. To access your account, click here. 
If you are legally blind and would like to register for free services through Christian Record, click here. Registration requires a doctor's note that verifies the level of legal blindness.
For more information about this magazine, please call Christian Record at (402) 488-0981.