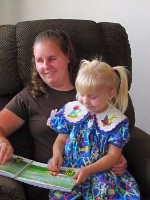 Christian Record has selected a set of 12 books Linda Porter Carlyle wrote specifically for children five to eight years old. Through stories, these books teach important values for children.These stories teach children about forgiveness, obedience, helping others, and making good choices -all from a Christian perspective.
Full-Vision books are children's stories that contain text, braille, and audio. 
Completed Titles (Updated January 2017)
God and Joseph and Me
Rescued from the River
Grandma Stepped on Fred
Max Moves In
---
For Christian Record clients, this magazine will now be available through your Liberty account. To access your account, click here. 
If you are legally blind and would like to register for free services through Christian Record, click here. Registration requires a doctor's note that verifies the level of legal blindness.
For more information about this magazine, please call Christian Record at (402) 488-0981.