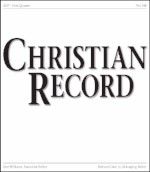 In continuous publication since 1899, Christian Record is a braille inspirational magazine that seeks to make Christianity practical in everyday issues such as relationships, health, and money management. Published quarterly, the Christian Record is available in braille magazine format or can be downloaded for refreshable braille format readers.
---
For Christian Record clients, this magazine will now be available through your Liberty account. To access your account, click here. 
If you are legally blind and would like to register for free services through Christian Record, click here. Registration requires a doctor's note that verifies the level of legal blindness.
For more information about this magazine, please call Christian Record at (402) 488-0981.