About inSight4Vets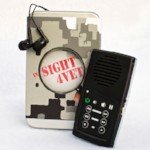 inSight4Vets responds to a challenge . . . In a flash, a life can change. Eye-injured soldiers account for as many as 16 percent of the total injured American warriors in Iraq and Afghanistan. Traumatic eye injury has reached the highest percentage of any war records in American history.
Research, collaboration, and planning led to the launch of inSight4Vets in 2013 as a free community service to improve the quality of life for America's heroes who have lost their eyesight. The project cornerstone is an audio gift. It will share with those who have served our country -- at great loss -- the inspiration, hope, and encouragement found in great books.
This collection of audio books was carefully chosen by the sponsoring nonprofit organization, Christian Record Services, Inc., in consultation with veterans, chaplains, and educators.
inSight4Vets: A "Thank you" to blinded veterans
Exclusively available to blinded veterans, the inSight4Vets player offers a special collection of interesting and inspirational audio books as shown in the Table of Contents. Your interest and participation in the inSight4Vets project will show a blinded vet that you care.
Product Description
Note: The player described in this video may vary from the one being distributed. 
Table of Contents with Audio Samples
To learn more about inSight4Vets or to request a player for yourself or a loved one who is blind, please email services@christianrecord.org or call 402-488-0981, option 3.